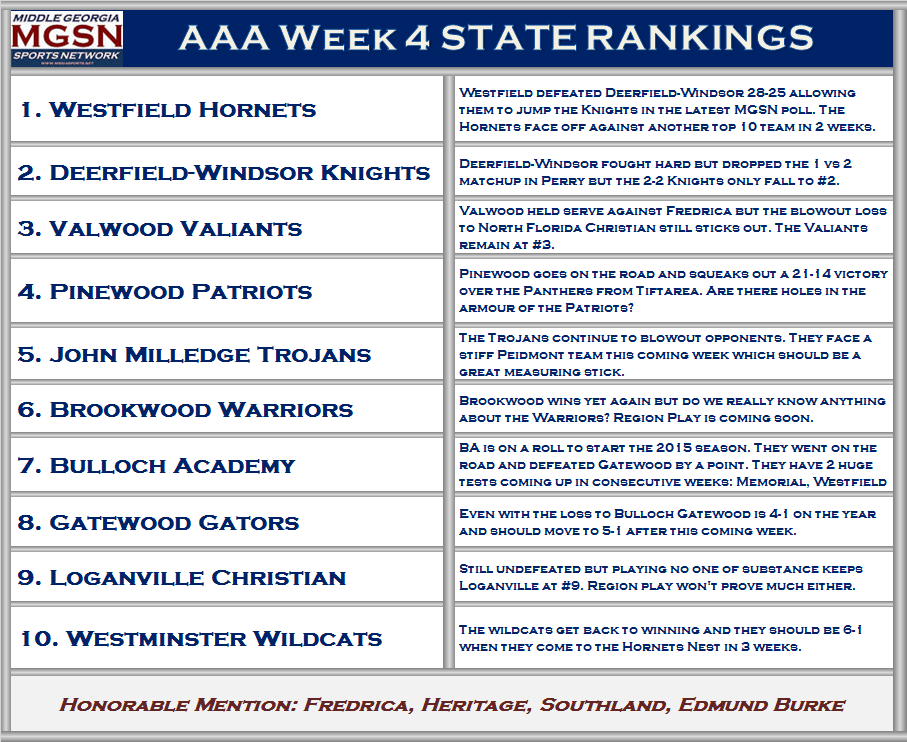 Weekly Report: Week 4
As we begin to settle into the 2015 Football season one thing stands out in the MidState, everything in terms of football is going as predicted. Northside, Warner Robins, Houston County, Jones County, and Westfield are all pretty close to where we expected them to be when the season started. Veterans and Perry have really improved and will push towards the top of region 2-AAAA. Now comes the tough part for all of these teams. That would be the meat of their respective region schedules.
The next few weeks will potentially decide the playoff fates of many of these teams. Some are locks to make the playoffs while others need to string together a few wins to strengthen their case. Seeding is hugely important in playoff runs as it affects home-field advantage in November. Pay close attention to all of these region races because they will likely come down to the final weeks of the season!
Week 4 Results:
AAA GISA:
Westfield:
The Hornets got it done! They defeated Deerfield-Windsor, their longtime rival, 28-25 on Friday to move to 3-1 on the young season and back into the MGSN top spot on the GISA AAA rankings. The most important stat in Friday's game for Gang Green? Zero Turnovers! That, coupled with an indefensible combination of wheel routes, left Ryan Fitzpatrick with three passing touchdowns and a gigantic victory over the Knights from Albany. The defense played tough when needed against the tricky Alan Lowe and Coach Jones earned another huge rivalry victory!
John Milledge:
They continue to plow through the competition. But we don't really know what that means for the Trojans. How good are they? We likely won't find that out until the two Region 4 powers face off in October, JMA vs Westfield
16 Oct. 2015
. The Trojans will continue to win and likely be undefeated heading into the Nest in a month.
GHSA:
Houston County, Northside, Warner Robins and Jones County all continue to pound people. Well that all should stop this week. Northside face Jones County at the Mac
on Thursday night
and then the Bears and Demons turn right around and duel on Friday. What a weekend for Houston County Schools. Should be fun for everyone to watch. Predictions: Northside gets revenge 31-23 over Jones County and Houston County wins by two scores 35-21 over Warner Robins.
Perry and Veterans both were big winners over Macon Co. and Washington Co. respectively. Both victories came out of left field and should give the Warhawks and Panthers extreme confidence heading into Region play. Veterans will have to take on Valdosta while Perry hosts Brooks Co. both in preparation for Region play in 2 weeks.
Final Thoughts:
Last week was very successful for most all Middle Georgia Schools. This week is possibly the most entertaining group of games with hopefully the best football being played. Westfield is off with a chance to rest. Region 2-AAAAA is about to have the State Spotlight on it with two huge matchups. Perry and Veterans have chances to prove themselves yet again. This has been a great season so far and it is only going to get better!
Predictions:
Westfield beats Idle 1-0
JMA Beats Piedmont in a close tilt 24-21
Veterans drops a tough one to Valdosta 38-7
Perry defeats Brooks Co. 24-10
Northside revenges Jones Co. 31-23
Hoco pulls away from Warner Robins 35-21
UGA loses to Cocky 10-9
Ga Tech takes it to Notre Dame 35-14
Georgia Southern beat Citadel 41-14
Georgia State quacks at Oregon, loses 65-10
Mercer wins on road over Tenn Tech 28-7