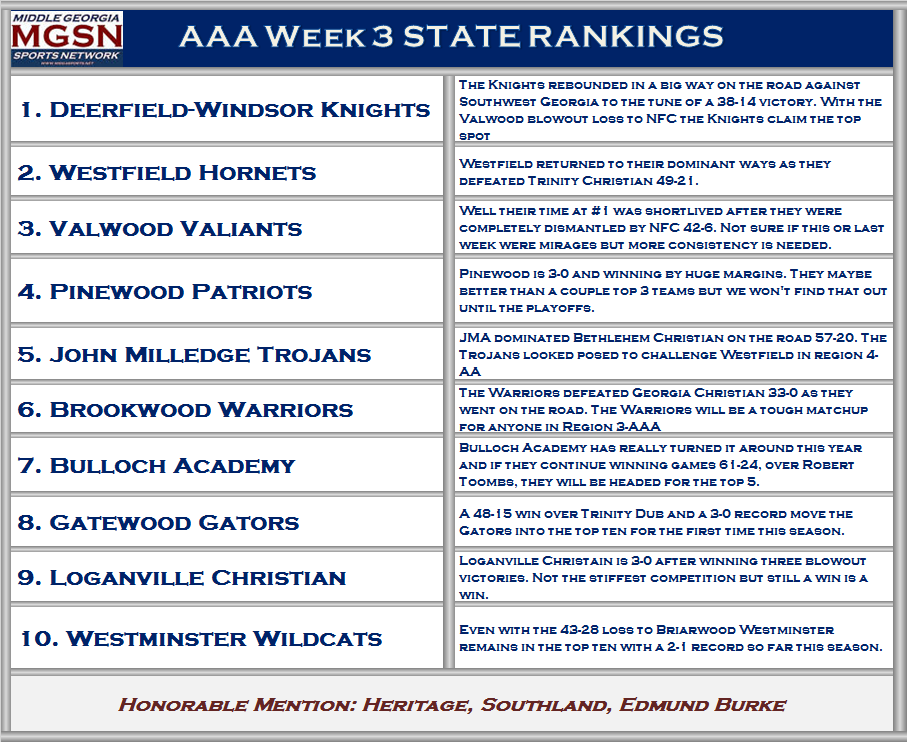 By Brett Taylor

Lots of wins filled the scoring sheets this week in the Middle Georgia Area. Northside, Warner Robins, HOCO, Peach and Westfield all won. Perry has a nice showing in a defensive struggle against Peach as well. The season seems to be shaping up as we thought that it would. Lots of wins by the 3 big Warner Robins schools and Westfield continues to be dominant after coming off a loss. Winning in the Hornets Nest is almost impossible right now for opposing teams.

GISA:
Westfield dominated a much improved Trinity Christian (Sharps) team with a 49-21 victory that was a bigger deficit than the score indicates. Giles Amos and Ryan Fitzpatrick had their usual nights and Basketball Sharpshooter John Bard has his coming out party for the Hornet Swarm (defense) that came out of no where. What a way for the Hornets to get their mojo back heading into Deerfield week. Their performance and Valwood's loss bumped the Hornets to #2 this week in the MGSN State Rankings.

Speaking of Deerfield they went on the road and scored a huge victory against Southwest Georgia 38-14. That is enough to send the Knights to the #1 spot this week.

Valwood couldn't ride the high, off of the Westfield win, to a victory at North Florida Christian losing 42-6. The Valiants either played over their heads against Westfield or they came out flat against NFC. Probably a bit of both. It was hard to jump the Hornets over the Valiants but it seems Westfield may be the more reliable and consistent team week in and week out.

John Milledge continued its winning ways on its way to a 57-20 victory over Bethlehem. All signs point to the Region title game with Westfield.

GHSA:
Warner Robins, Northside, Jones County, and Houston County all won in blowout fashion continuing a recent dominance from all 4 schools in region 2-AAAAA. Houston County got off to a slow start but then turned it on to cruise. They will need to find the quick start offense that was so effective last year in order to win the Region. Northside continues to impress, as if that is a new developing story. Warner Robins may pose a huge obstacle for the top 3 teams in theis region from last season.

Final Thougths:
The two victories from Deerfield and Westfield setup the biggest matchup in the State, in GISA, this week as the two rivals face off in Perry. This game is too close to call but, if history is an indicator, we should be in for some fireworks in the Nest this week. Everything else in GISA and GHSA should remain chalk this coming week as all predictions have seem to come true early on in this 2015 season!